If you were looking for information on how to become a game warden in Georgia, you have come to the right place. Here we will provide you with the information you need to be up to date on Georgia Game Warden requirements.
Requirements to Become a Game Warden in Georgia
Age: Must be at least 21 years or older in order to enter basic training.
Citizenship: Evidence of U.S. Citizenship or naturalization records are needed; also, evidence of Georgia residency is required.
Military Service: If formerly with the United States Military, one must have left "Under Honorable Conditions" .
Legal and Foundation History: Applicants must pass an intensive fingerprint background check to make sure the applicant hasn't been involved in any of the following:
Bought, transported, or used a controlled substance in the past five years
Aren't currently on probation
Never been convicted of a misdemeanor, domestic violence or otherwise
Never been convicted of false statement or perjury
Never been discharged or resigned from any law enforcement agency under threat of dismissal
Never been charged with boating or driving under the influence of alcohol within the last five years
Not been mentioned with traffic infractions including the refusal to submit to your breath/blood/urine test within five years
Find schools and get information on the program that's
right for you.
(It's fast and free!)
Featured Schools
Georgia Game Warden Education Requirements
Must have completed a high school diploma or its equivalent. Georgia's State Human Resources Department specifies that collected hours without an Associate's degree doesn't meet the requirements.
Georgina Game Warden Training
In addition to the educational requirements, prospective Georgia Fish and Game Wardens will need to complete training in each of the following:
Incident investigation
Driving techniques including pursuit and evasion
Substantial Firearms training
First responder emergency protocols for medical and fire emergency
Homeland security
Information systems
Law enforcement survival
In addition, prospective Georgia Fish and Wildlife Officers will need to complete a 12 week practical and mentorship, where they will receive classroom training from senior policemen and co-workers.
Discover criminal justice and wildlife/forestry programs in Georgia that are a match for you!
Department of Natural Resource Academy
Candidates will then need to complete a 12-week training course on the following areas:
Land navigation and GPS use
Water security
Human tracking
Boat Operation
Species Identification
Area Training
Department of Wildlife and Fish – Orientation and Special training
Training will include work in each of the following areas:
Hunting, fishing, and boating legislative acts and regulations
Performing misdemeanor tests and boat security
Environmental crimes
Substantial field training
Probationary field-training interval
Georgia Fish and Wildlife Officers will need to complete an additional 20 hours of training each year.
Also, innovative training opportunities can be found to Georgia's Conservation Rangers, including:
FBI National Academy and Order School
Federal Marine Law Enforcement Training Program
Coast Guard
Interview: Nominees are going to have an oral interview to assess knowledge and expertise in the fields of hunting, fishing, boating and related outdoor activities.
Polygraph Test: A set of questions detailing previous encounter with criminal action and substance abuse is likely to be inquired of the applicant.
Mental Illness: The applicant has to have a clean mental health history as demonstrated by a doctor.
Hearing: The applicant have to have the ability to listen to in ' ' settings that are regular and be without major hearing loss.
Physical Preparation: Georgia applicants must complete a physical preparation test showing that he, or she, can finish:
¾ mile barrier run
Swim evaluation: applicants should have the capacity to swim 50-yards completely clothed
Desirable Abilities and Qualifications to Become a Georgia Game Warden
Show professional use of the English language which includes attention to grammar, spelling, punctuation, vocabulary, and writing; comprehension and reading for verbal and oral communication will likely be assessed
Show effective usage of math including data collection, basic bookkeeping, estimating, and advanced arithmetic
Present any abilities that are bilingual
E-mail, word processing, Computer spreadsheet, GIS, and database knowledge in a networked environment is needed; the state uses bespoke software for data and training delivery
Power to follow orders and work under pressure
Power to collect information by interviewing individuals
Capability to make use of judgment and reasoning to make rapid decisions on routine matters
Ability to use media apparatus with all the aim to generate a display or be involved in training
Efficiently work a 4-wheel drive vehicle on terrain that is rocky
Efficiently use snowmobiles, boats, and ATVs for pursuit and patrol
Efficiently use firearms and train others on safety and firearm utilization
Professional development or school classes in law enforcement, psychology, sociology, natural resources management or wildlife management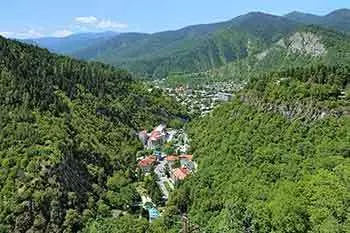 Georgia Game Warden Salary
Game wardens in Georgia take home a great salary while pursuing a fulfilling career protecting fish and game of his or her state. According to the Bureau of Labor Statistics, the average game warden in the state of Georgia makes a median salary of $37,480 per year.
Contact Info:
Georgia Law Enforcement Division
2070 U.S. Hwy. 278, SE
Social Circle, GA 30025
Phone: (770) 918-6408
Discover Programs for Game Wardens in Georgia
Find schools and get information on the program that's right for you.
(It's fast and free!)
Choose an area of study & concentration and receive free information about programs you are interested in. Federal and state game wardens are law enforcement officers and wildlife conservation specialists, so having a degree in an area like environmental science or wildlife management is just as important as experience in law enforcement.